dlclled
By dlclled on March 21, 2017
The DigitalDIY project was featured at the Provoking Curriculum Conference in February 2017. This is the abstract of the conference and a video of the presentation is coming soon.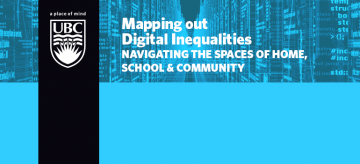 By dlclled on May 11, 2015
This colloquium gathers together researchers, teachers, non-profit agencies and community members to discuss how the digital inequalities of access and use in the Lower Mainland impinge on people's daily lives, their access to services, knowledge, resources, and ultimately on their social and educational trajectories.
By dlclled on March 16, 2015
DLC Talks Lecture by Allan Luke and Claire Robson Friday, June 5, time: 1:00 – 3:00 p.m. At DLC: Ponderosa F 103
By dlclled on March 5, 2015
Incoming event: Lecture by John Willinsky Friday, April 24, time: 1:00 – 3:00 p.m. At DLC: Ponderosa F 103