yuya takeda
By yuya takeda on November 18, 2016
Dr. Allan Luke is an educator, researcher, and theorist studying literacy, multiliteracies, applied linguistics, and educational sociology and policy. Dr. Luke has written or edited over 15 books and more than 200 articles and book chapters. Dr. Luke, with Peter Freebody, originated the Four Resources Model of literacy in the 1990s. Part of the New London Group, he was […]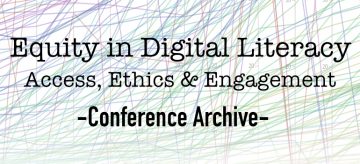 By yuya takeda on November 18, 2016
Equity in Digital Literacies: Access, Ethics & Engagement conference took place on May, 2016. This page is an archive of Keynote presentation videos.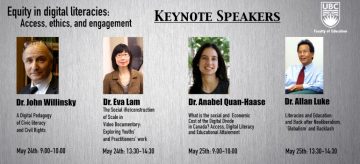 By yuya takeda on May 6, 2016
These keynotes are part of a two-day closed conference. Funded by SSHRC, UBC SPARC, the Department of Language and Literacy Education, and LLED's Digital Literacy Centre. Organized by Theresa Rogers, Jim Anderson, Ron Darvin (UBC) and Suzanne Smythe (SFU).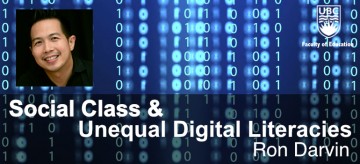 By yuya takeda on March 3, 2016
To apply for this conference, please click here. In language and literacy studies, the proliferation of new digital tools and forms of symbolic representation has raised serious concerns about access to digital technologies, the ethics of new language and literacy practices, and the educational polices that link the broad digital world to learning contexts within […]