Archives by date
You are browsing the site archives by date.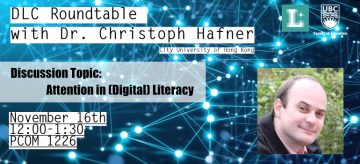 By yuya takeda on November 8, 2017
What challenges does the new digital age pose for educators across different contexts? How can we harness the potential of the digital to capture and sustain our students' diminishing attention spans? Three experts of the Digital Literacy Centre sit down with Dr. Hafner to try and answer these and other questions from the audience.
By yuya takeda on October 4, 2017
This is the List of Books we have in the LLED Print Materials Room (PCOM3121). Please feel free to borrow and use the books we have!
By dlclled on March 21, 2017
The DigitalDIY project was featured at the Provoking Curriculum Conference in February 2017. This is the abstract of the conference and a video of the presentation is coming soon.