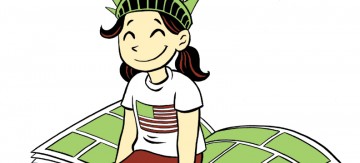 By dlclled on July 31, 2013
"The Comic Book Legal Defense Fund is proud to release "Raising a Reader! How Comics & Graphic Novels Can Help Your Kids Love To Read!," a new resource for parents and educators about the learning benefits of comics!
By dlclled on July 31, 2013
A very interesting effort made by a group of teachers using the available and free resources such as twitter and Google+ to create an online environment to share their teaching experiences.
By dlclled on July 8, 2013
"The world of education has seen a notable trend over the past few years with the adoption of Google Apps increasing in all corners of the map.  Students are getting "Schooled by Google" and teachers are embracing apps that makes their lives easier as well." Source: backupify blog
By dlclled on July 8, 2013
"Stories are all around us, and in our fast paced society it's important to be able to tell a story in the most succinct and effective manner…"
By dlclled on June 28, 2013
WordPress has become one of the most important Content Management Systems for everyone, but particularly for the UBC. As all our websites are migrating to this platform, we can use all the help that we can get.